Flu vs COVID-19 Death Rate, By Age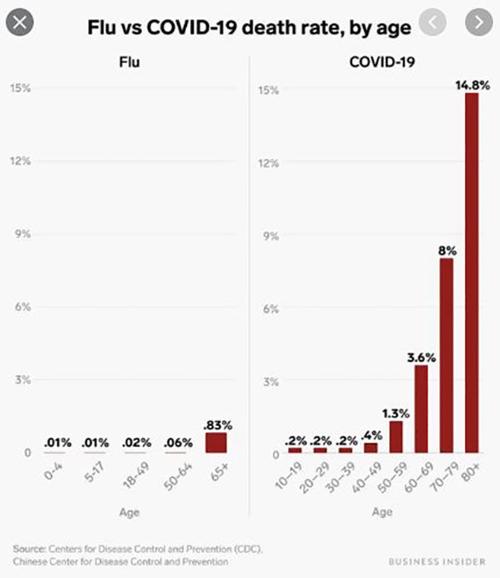 As featured on
As an internal medicine physician, I have gotten so many questions about COVID-19 that I would like to share the data I have about it, as of this moment (and we all know that information is changing rapidly).
An article published this past week by MMWR/CDC shows the transmission rates to 445 individuals who were either household contacts (sharing a home) or close contacts (healthcare workers, those within 6 feet) of some of the first patients diagnosed with COVID-19 in the U.S.
You may find it reassuring that the transmission rates were found to be 10.5% for household contacts (but with a confidence interval ranging up to 31%) and up to 1.6% for those with close contact (within 6 feet, household contacts are closer than "close" contacts)). So, even those who lived with someone with COVID-19 did not usually contract the virus.
The graph shows the mortality rates by age of COVID-19 compared to seasonal influenza. Although the absolute numbers are smaller than the flu, this data shows part of the reason for concern about this virus is that a higher percentage of those infected with COVID-19 are dying of the disease, especially the elderly.