"The Coronado Kid" ...
Photo by Alessandra Selgi-Harrigan

Updated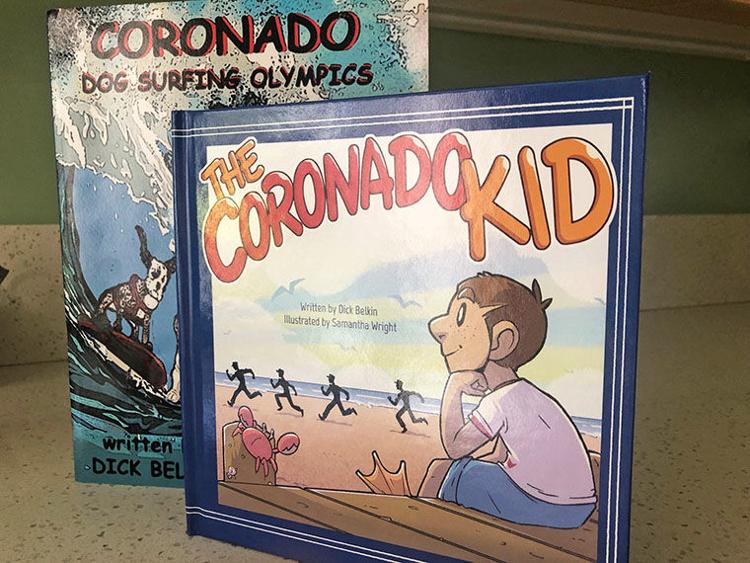 Tags
As featured on
While he was on a walk on the Shores boardwalk, Dick Belkin saw a young boy, who he estimated to be about 8 years old, walking on the sand wearing fins trying to reach the water and struggling in the process. Belkin called that Flip-a-flap-a-phobia and when he went home, he sat down and wrote a poem about what he saw. Sherry, his wife of 55 years, encouraged him to transform the poem into a children's book. The final product is a book entitled "The Coronado Kid" the story of a kid who has flip-a-flap-phobia who aspires to be a Navy SEAL and eventually meets one.
This is not Belkin's first time writing and publishing a book. In fact, he has done it three times. His first book is a tongue twister called "Totally Twisted, Tongue Twister Soup" published under the name Captain Six, a TV character he played as a young man. Belkin's second book is "Coronado Dog Surfing Olympics." As Belkin has done in the past, he self published his books with the proceeds going to the Coronado Historical Association.
To illustrate this latest book, Belkin partnered with Samatha Wright whom he worked with on his first book. "Each [illustrator] brings something unique. Illustrating and writing a book is like making a movie. How you put it together…it's a very creative experience. She is very talented and it was fun to work with her," he said. "She has captured the sense of the story."